Language: English, French, German, Spanish, Italian, Korean, Chinese, Japanese or other languages.
Start: any day
Number of people: from 1 person
Price: by request (depends on number of people, dates, language, etc)
Program
Day 1: City-tour (4 hours)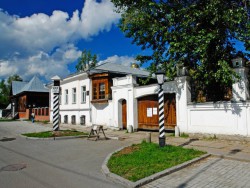 During City- tour you will learn the history and legends of Ekaterinburg. The excursion starts in the heart of Ekaterinburg – the Historical Square of the city where you will see the city plan, the monuments of city founders, the dam, the chapel of St.Ekaterina – the patroness of the city. During the excursion you will walk along the old streets of the city that represent the style of the XIX century, see the unique monuments of industrial architecture of the XVIII century, mansions of XVIII-XIX century – Sevastianov mansion, Kharitonov-Rastorguev mansion, learn the literary and theatrical life of Ekaterinburg and also see the face of modern Ekaterinburg -city. You also will visit the Church on the Blood that is situated instead Ipatiev House where Nicolas II and his family lived and were killed.
Lunch and free time.
Night in the hotel.
Day 2: Border between Europe and Asia – Ganina Yama (5 hours)
Breakfast in the hotel.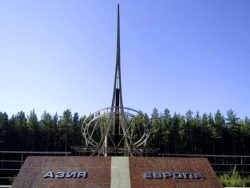 Today you will visit Monastery Ganina Yama where you will learn history of the last tsar and his family. Ganina Yama is a place of a secret burial site of the tsar's family. In order to conceal the crime it was decided to leave their bodies in one of the deserted mines of Ganina Yama. In 1979 the Monastery of the Holy Imperial Passion-Bearers was constructed here. In 2000 Patriarch Alexy II blessed the construction of the church on this Saint ground.
After you will visit an amazing place – the border between Europe and Asia.
Lunch.
Transfer to the Railway Station.
| | | | | |
| --- | --- | --- | --- | --- |
| Number of person | 10+1 pax | 20+1 pax | 30+1 pax | 40+1 pax |
| English, French | 2 500 rub/pax | 2 000 rub/pax | 1 450 rub/pax | 1 125 rub/pax |
| German, Italian, Spanish | 2 600 рrub/pax | 2 050 rub/pax | 1 500 rub/pax | 1 150 rub/pax |
| Chinese, Japanese, Turkish, Korean | 2 700 rub/pax | 2 100 rub/pax | 1 550 rub/pax | 1 175 rub/pax |
The price includes: transfers, guides, transport , excursions according to the program, tickets, 2 lunches.
Also we can book for you the Hotel in the centre of the city, tickets to the theatre or other entertainment.
Please contact us by e-mail office@tour-to-russia.com, via our website or by skype to get special prices for individual tour to Russia in any language for different number of people, to reserve the dates or ask the questions! We can redesign the program or add city-tours according to your wishes!