Auto museum in Verkhnyaya Pyshma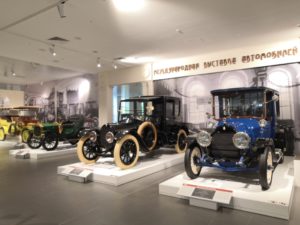 Do you know that in Russia you can visit an automobile museum?
This museum is the biggest in the Ural and is located near Yekaterinburg. Here you can enjoy the exhibition of retro cars, bikes and motorcycles. It is located in Verkhnyaya Pyshma and it takes you about 40 mins to get there from the center of Yekaterinburg city and you can enjoy your excursion for 1.5-2 hours. 
It has the largest collection of vintage cars, motorcycles and bicycles in Russia. Your will see 130-year history of transport in our country and the world. The collection of the Museum has over 160 vehicles and over 150  Moto and Bicycle equipment. You can see the real masterpieces of the world automotive industry. Several floors of the Museum are devoted to the history of the domestic automotive industry, from the early 1930s to the end of the XX century.
It is the most exciting excursion that you can combine with city-tour.
We can organise for you this excursion individually and for a group. 
This excursion can be provided in English, French, German, Spanish, Italian, Japanese, Chinese, Korean, Check and etc.