Everything what you want to know about excursion to Nevyansk
Today we want to tell you about a very unteresting excursion to Nevyansk. Here you can find some advice – Why to go? How to go? When to go?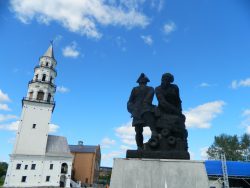 Why to go?
Nevyansk city is a famouse by its Leaning tower. Have you ever been in Italy, Pisa? Did you see a falling tower? So here is something like this. But it is not a falling tower, it is a leaning tower.
This tower was build as leaning in purpose.
What is more interesting you can go inside this tower and not only outside.
It is worth to go inside. As you will visit here an acoustic room – and will know how to know all the secrets and hear all whispers around you.
Here you will go and see the clock that was cost more than the whole tower!!! It a musical clock! And it is still working!
Here you will learn legends about false money, about iron and copper and about the most powerful dynasty in Russia – Demidoff. The family became very rich after a poor and talanted blacksmirth met tsar Peter the Great and became his friend.
For people who likes history – here you find a very interesing exhibitions in the museum. And also you will have an opportunity to visit a cathedral where you can know the difference in the icon styles and will learn about the Old-Believers.
For people who likes collection stones – here you can try and find difference samples of stone))
By the way if you like pottery – you also can go to the pottery master-class in the village near-by after excursion in Nevyansk. And here you can make your own souvenir!!!
How to go?
Nevyansk is a small city near Yekaterinburg. It takes you 1,5-2 hours to go there by the car.
You can easily order the excursion from our web-site. The excursion takes 5-6 hours or if you want to visit pottery master-class and try a village food – 8-9 hours
You can order the excursion in English, French, Spanish, Italian, Chinese, Japanese, Korean.
You can visit this excurion individually or with a group.
When to go?
Anytime. You can visit this place in summer, autumn, winter, spring.
No need any special things to bring for this excursion.
Just don't forget to wear very comfortable boots.
You can order any tour or create your own one. Just let us know via the application form or by e-mail office@tour-to-russia.com