Excursion to Irbit – the city of famous Irbit Fair and Motocycles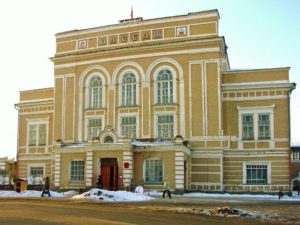 Irbit is one of the oldest cities in the Urals. It was settled in 1631 – and soon this city became very  popular because of its famous Irbit Trade Fair. During the Second World War lots of factories were evacuated to Irbit and since that time it became one of the major industrial cities.
During the great Patriotic war, industrial enterprises were evacuated to Irbit, as well as to other Ural cities. The city has become a major industrial center.
In Irbit people preserved many old houses of the second half of XIX – early XX centuries – monuments. During the excursion you will see the Passage (1849), the remains of the first hotel built in 1880 (the Central facade was demolished in 1920 and numerous merchants' mansions . The city is dominated by the so-called "brick style", which is characterized by a variety of stone patterns. The historical center of the city is well preserved from the X IX century and is a real architectural reserve, which will be appreciated by lovers of antiquity.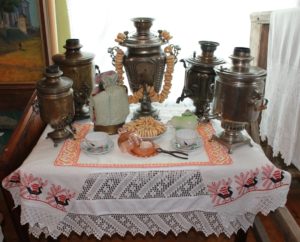 During our tour you will visit a Museum of Irbit Everyday Life. Here you will know about rural life in Russia, will get know Russian traditions and you will see traditional household items from the past. You will learn what is "samovar" and will taste a traditional Russian tea. There is also an exhibition in the courtyard of the Museum – there is a male corner, i.e. the place where the man worked: Shoe repair, machine for processing wool, etc.
After that you will have a traditional Russian lunch in a hut with a Russian stove.
Here we can organize for you a cooking class for Russian rural food that you will cook in the stove! And other master-classes, please contact our manager.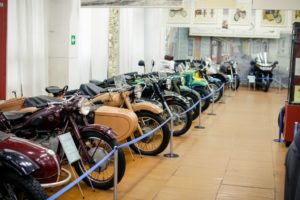 After lunch you will visit a State Museum of Motorcycles. Here you will see unique real samples of Irbit motorcycle plant (IMZ, uralmoto), where a unique technical collection was formed for more than 60 years, which served as a creative laboratory for designers, testers, engineers.
There are more than 120 transport units: not only heavy-duty motorcycles and engines, but also cars and other vehicles produced by IMZ; complement the technical collection of the Museum of 48 internal combustion engines. And also there is a very interesting exhibition about Russian bikers and here you will know about their life and work.
Duration of excursion: about 12 h
Price is included: transportation, lunch, tickets to  the Museums, guide
You can order any tour or create your own one. Just let us know via the application form or by e-mail office@tour-to-russia.com