Museum of Military Equipment in V. Pyshma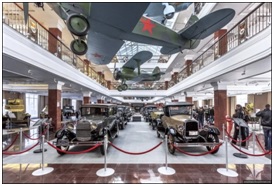 If you come to Yekaterinburg for several days, we recommend you to have a city-tour with visiting the border between Europe and Asia and for one of next days  -to visit a Museum of Military Equipment in Verkhnyaya Pyshma. This Military Museum was awarded as "The Best Museumof Military History" by the Russian Military historical Society in November, 2015.
This museum is a very unique and it is really worth to visit it. For 10 years the museum has collected more than 500 pieces of military equipment, unique collections of domestic awards, military regalia, mass-dimensional models of firearms, as well as uniforms, equipment, insignia of the Russian armed forces from the XVIII century to the present day.
Here you can enjoy the exhibition inside the museum, as well as on the open-air square near museum.
The exposition of the Museum is closely connected with the history of the Ural region, because many tanks and guns were made at the Ural factories – in Yekaterinburg, Perm and Chelyabinsk. Here you can see 500 military vehicles, such as a famous tank T-34, in basic modifications, as well as almost all armored artillery weapons that were produced in USSR during the Second World War.
This excursion can be organized for you individually, according for you request of time and date. This excursion can be provided in English, French, German, Spanish, Italian, Japanese, Chinese, Korean, Check and etc.
You can order any tour or create your own one. Just let us know via the application form or by e-mail office@tour-to-russia.com