Top-5 view points in Yekaterinburg where you can enjoy the view to the city
Yekaterinburg is one of the biggest cities in Russia. It takes the 4th place after Moscow, St.Peterburg and Novosibirsk. Moreover Yekaterinburg is a very beautiful city. So we want to write todau where yoi can admire the beauty of our city.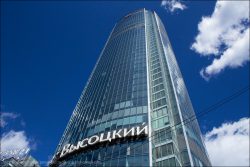 1) View point in the skyscraper Vysotskiy
Nowdays it is one of the highest building in the city. It can be a little windy here as it is open-air view point, sk dont forget yoir jacket or scarf.
By the way in this building you can go to the restarant and admire the view from the city and also there is 5* hotel where you can stay durinh your trip.
The address: Malysheva Street, 51
2) View point in the business-center "Antey"
Antey is situated near Vysotskiy and it is a little bit smaller. But some tourists like to come here also.
The address: Krasnoarmeyskaya Street, 10
3) The top of the mountain Uktus
This a very beutiful area and from here you also can admire not only the nature of Ural forest, but also the beauty of the whole city.
In winter you can go skiing here and have a lot of fun.
Pay attention that it is situated not in the center of the city!
The addeess: Zimnyay Street, 27
4) "Kosmos"
"Kosmos" is a cinema and also it has a big hall for different events and concerts (usually the biggest concert of pop stars both Russian and foreigners are hold here).
There is a summer restarant on the top of the building. So you can come here drink a cup of coffee and enjoy the view of Yekaterinburg.
Actually it is not really high here but it is situated in the center in the bank of the river Iset.
The address: Dzerdzhinskogo street, 2.
5) The Church-on-the-Blood
Here you can buh a ticket and go tk the bell tower. Pay attention that it is an active church, so please respect and follow the rules. Women should cover their heads, shoulders and knees. Men should take off their hats.
Also if you ho to the first floor you can find a museum that was organised in honour of the last tsar Nicolas II Romanov and his family.
The address: Svyatoy Quarter, 1