Yekaterinburg is one of the Host Cities for 2018 FIFA World Cup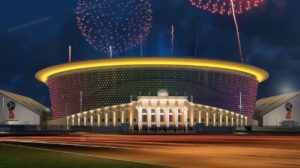 It's a well-known fact that Yekaterinburg is one of the Host Cities for 2018 FIFA World Cup. Four matches will take place at the newly-reconstructed stadium in June and July. Thousands of football fans from various countries will come to our city. But what do they know about Yekaterinburg and what can they see and do here in their spare time? Unfortunately, according to statistics, foreigners are quite ignorant as far as the city on river Iset is concerned. There are not enough information resources about our city due to the fact that it used to be a closed one and it has never been a populartourist destination. The purpose of this paper is to focus on the main Yekaterinburg attractions which are certainly worth visiting.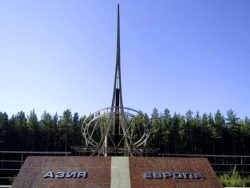 First and foremost, it is the city's unique location. Although Yekaterinburg is entirely located in Asia, the border with Europe is close at hand, on Novomoskovsk tract. There is a metal sculpture of two letters A- Asia and E-Europe which is similar to the Eiffel Tower in Paris. There you have got a splendid opportunity to make a wish, take photos and even stand with one foot in Asia and the other in Europe.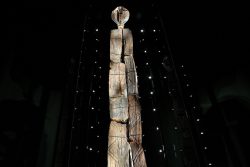 Not many people know that 
the most ancient wooden sculpture, 
the Shigir Idol,
 is displayed in the 
Regional History and Geography Museum 
in Yekaterinburg. It was extracted in several parts in 1894 on the eastern slope of the Middle Urals, approximately 100 km from Yekaterinburg. Carved from larch, the sculpture is 2.80 m (9 ft 2 in) high. However,
archaeologists suggested that the original height of the statue was 5.3 metres. According to Russian investigations, the idol is approximately 9,500 years old. A later German analysis gave an age of 11,000 years which makes it the most ancient known wooden sculpture of its kind in the world. So if you want to see the man-made creation twice older that Egyptian pyramids, you should visit Yekaterinburg.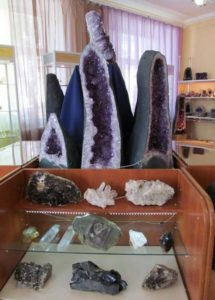 No doubt, Moscow and St.Petersburg are the most frequently visited cities. But if you want to see 'real' Russia, you should come to the Urals and see its capital. Founded by the order of Peter I in 1723, 
Yekaterinburg became a key city to 
Siberia
 and was known as the "window to Asia", a reference to 
Saint Petersburg
as a "window to Europe".
The city quickly became a centre of large-scale mining industry and metallurgy which greatly contributed to military success and economic development of the whole country. Of course, the mineral wealth of the Urals is famous all over the world. The name of the city is also linked with the glorious history of Russian gold. Ural gemstones are surrounded by mystery stories and beautiful legends. In the Jewellery and Stone-Cutting Art History Museum you can see specimens of jewellery made from malachite, jasper, rhodonite, etc. By the way, items made from Ural minerals are the best souvenirs from our region. You can choose something to your taste in local souvenir shops.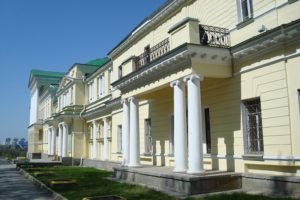 It should be noted that Yekaterinburg is a city with rich cultural heritage including lots of architectural monuments. One of which is a famous estate of Rastorguev – Kharitonov. This is a beautiful palace and park complex that was built in the 18th century. Today visitors can hear a lot of beliefs and legends connected with the estate. Another magnificent sight, Sevastyanov house, is included in the federal heritage list. The house was built in the beginning of the 19th century and belonged to a noble merchant. This is a unique architectural construction made in Gothic-Moorish style. If you are interested in Soviet-era buildings, there are 140 examples of Constructivist architecture in Yekaterinburg. Also it is recommended to visit the Vysotsky skyscraper for a bird's-eye view of the city.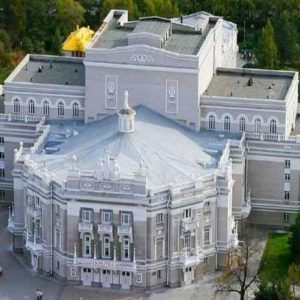 Yekaterinburg can boast of its numerous theatres, The Opera and Ballet House being one of the oldest in Russia. Since the mid-1920s it was considered one of the best theaters in Russia. Sergey Lemeshev, Ivan Kozlovsky, Alexander Pirogov started their careers here. If you prefer ballet to opera, you have a chance to see Russian and European classics: Swan Lake, Cinderella, Nutcracker, Giselle, Romeo and Juliette. Music lovers shouldn't miss the opportunity of visiting the local Philharmonic Hall and listen to a German pipe organ which is considered to be the second by sound in Europe.
There are lots of unusual monuments which can interest you in Yekaterinburg. The monuments to the Invisible Man and to the Keyboard are among them. You are strongly recommended to take a walk along Vaynera pedestrian street (the Ural Arbat) which is famous for the bronze sculptures dedicated to the city dwellers of the past. You can meet here a couple of lovers sitting on the rail, a street vendor selling perfume, a local craftsman who invented the bicycle.
And of course, you should try authentic food of the Urals, because where else if not here? You can start with the most famous dish of our region – pelmeni. Pashtet – a cozy restaurant in Ekaterinburg city center – makes a classic version of this dish with different types of meat. Also you can try
EkaterinBURGER at Steak House, that is a burger made in Ekaterinburg with all local ingredients. So, technically, Ekaterinburg is the only place where you can try it. 
All in all, here is some food for thought about visiting Yekaterinburg. The city has much more wonders for you to discover. So come here and see everything with your own eyes.