Festival of Russian culture – Pokrovskie gulyaniya.
From 20,September to 20,October
We invite you to visit an amazing festival of Russian culture – Pokrovskie gulyaniya!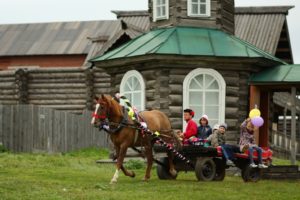 During the tour you will visit a small and pleasant village – Nizhnyaya Sinyachikha.
Local people call this village a small Swetzerland, because the landscape here is so beautiful!
The program of this festival is included an excursion in an open-air museum of wooden architecture XVII-XIX c.
The museum is one of the bifgest oen-air museum in Russia.  If you are interested to know more about russian culture, we recommend to visit this place, as here you can see about 15 samples of traditional russian huts, houses and wooden chapels public buildings (like a fire tower, a windmill, a watchtower and etc.), which are located directly in the open air. 
In the village a beautiful peasant will meet you and show you the life of a traditional Russian village. Also you will have a master class on creating a doll amulet. You will have a traditional Russian tea party. And you will have an opportunity to visit a fair and ride in a traditional Russian cart 
We provide an excursion to Nizhnyaya Sinyachikha in English, French, Spanish, Italian, Chinese, Japanese and Korean.