Dear friends, winter is coming!
Let's have fun and explore Russia!
We prepared for you lots of different winter tours.
You can choose not only traditional excursions (such as city-tour, excursion to Europe and Asia or tour to Ganina Yama), but also enjoy the beauty of winter in Russia and have experience in dog-sledding, hiking in a winter nature park and etc). Our special winter program is available in English, French, German, Spanish, Italian, Chinese, Japanese, Korean and Turkish. We organize an individual tours and group tours according to your time and interests.
NEW YEAR IN EKATERINBURG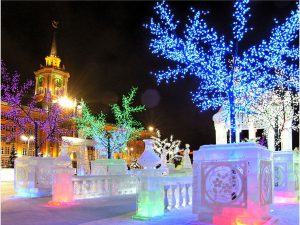 This excursion is a special walking city-tour for tourists visiting Ekaterinburg during December and January. During this excursion they will have lots of fun, learn history of our city, visit the most beautiful sights, take photos in Ice Town, that was built for New Year in the main square and will learn lots of legends about city and traditions how to celebrate New Year in Russia.
After excursion our tourists will have a cooking class in a very cozy and warm restaurant where they will learn how to cook the most traditional Russian food – "pelmeni" and of course they will eat them.
Duration: 5 h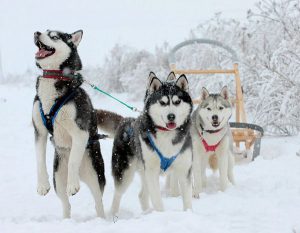 2. Dog-sledding in the winter forest
Let's have a wonderful time during winter and explore Russian nature! The best way to do it is to join our dog-sledding tour! You will meet huskies the most friendly and lovely dogs! You will learn about their lives and how to go to an expedition to the north. After an instruction you will have a chance to go dog-sledding! Lots of fun and great time!
Duration: 4-5 h
Falconry tour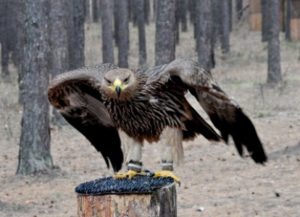 We invite you to visit a famous falconry center in the Ural. You will have a fascinating excursion where you can see diferent kind of birds (for example sapsans, falcons, owls, goshwalks, eagles and etc). You will learn bout birds that live in Russian and learn how to hunt with a bird. Hunting with a bird is an art, It is worth to have this experience to learn how people hunt several years ago. This excursion will be interested for people different ages. An of course we recommend it because this falconry center is situated in the most beautiful forst area and you can admire the beauty of winter forest.
Duration: 4-5 hours
Snowmobiling tour in Russia
One of the most exciting winter activity is a snowmobiling! Can you imagine the feeling when you will ride a snowmobile in winter forest in a sunny day! The snowmobile trail is not hard and even if you don't have any experience you can join this tour. The ride will be for 2-3 hours.
Duration: 5-6 hours
5. One day in a traditional Russian village
We invite you to visit a traditional Russian village. Here you will learn Russian traditions. You will see a real Russian peasant house – "izba" with all utilities.
For additional request we can organize a special master-class. During it you will make a Russian tradition "valenok". The best souvenir is hand-made, because it bring for your happy memories!
Duration: 7-8 hours
Let's have a wonderful winter tale in Russia!
You can order tour to any city/cities of Russia or other servicers by this application form or by e-mail office@tour-to-russia.com