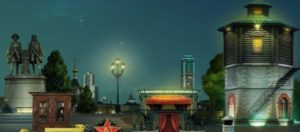 In May, 20, 2017 there will be an international cultural event that is called Night Museum. This event is hold in more than 40 European countries. And we are happy to welcome you to this event this year in Ekaterinburg! Night Museum takes annual place in Ekaterinburg during 11 years! It is one of the biggest cultural event that is popular all over the world and it is very popular in Russia, too. This year it will be in the 20th of May. If you have chance we really recommend you to stay in Ekaterinburg and visit this big event.
Every year we provide new special excursion for foreigners during this day. Every year we make it different, every year all our tourists are very happy and very excited.
This year we invite you in May, 20 at 19.00 for our new excursion "Traditions of leisure activitiesin pre-revolutinary Ekaterinburg and soviet Sverdlovsk".
This tour also includes an element of city-tour in Ekaterinburg. So if it is your first visit for Ekaterinburg, it will be very interesting for you. This tour is in English. If you want any info about the tour or if you don't know how to get to the meeting point, just contact us via our e-mail office@lk-magellan.ru or skype.
After excursiin our guide also will give you advice where to go. Don't hesitate this moment. At Night Museum there will be more than 80 museums, so we will recommend the best place for you, according your desire.