On-line individual Russian language course
If you want to carry on your Russian language lessons after or before visiting language school in Russia, if you want to have everyday Russian language lessons staying at home or if you want just to maintain your level and communicational skills, our on-line Russian language lessons are just for you! 
Individual on –line Russian language course from LC MAGELLAN suits you if: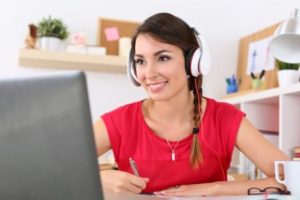 You are complete beginner and just have decided to open the wide and extensive world of Russian language. We have a great experience in learning Russian for beginners
You already have particular level of Russian language and you know your weaknesses and know what do you want to improve (to break the speaking barriers, learn more grammar rules or may be you want to have a special course of Russian literature, Russian history). 
You have specific goals of your online learning – preparing to TRKI, business Russian for work travelling, etc.
You have specific schedule or you want to have your own pace in studying. Or at least you prefer everyday Russian language lessons to get fast results.
You have finished language course in Russia and want to continue studying with your teacher to maintain your progress.
With one-to-one Russian language lessons you will have the total control of when, where and what you want to learn.
In our Russian language school we provide such forms of lessons:
individual one-on-one online lessons
online lessons for self- organized groups
weekly Russian online speaking classes
Prices and discounts for On-line individual Russian language course:
| | |
| --- | --- |
| 45 mim | 13 EUR |
| 60 mim | 16 EUR |
| 90 min | 26 EUR |
10 lessons – 5% discount
20 lessons – 10% discount
30 lessons – 15% discount
Weekly Russian online speaking classes
Every Sunday at 14 00 (Moscow time)

Duration – 60 minutes 

8 EUR per class/ 28 EUR per 4 classes.

Free for our current students.

Registration is required