The Trans-Siberian Railway: Ekaterinburg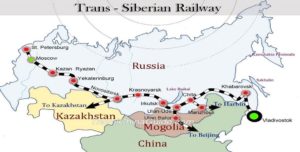 The Trans-Siberian Railway is the longest railroad in the world that connects the whole continent  from European part of Russia up to the Far East. The length of The great Siberian way is 9288,2 km. It had been building during 1891 -1916. This railroad made Russia a united economic territory.
The Trans-Siberian Railway starts from Yaroslavsky railway station in Moscow and goes till Vladivostok railway station. There are 87 cities situated along the way. If you have a chance to make a tour along the Trans-Siberian Railway, you will necessarily discover all the beauty and charm of Russian nature and culture.
Ekaterinburg is one of the most important and beautiful stays during this long and exciting way.
According to our experience we can recommend you several options of excursion program in Ekaterinburg:
Welcome to Ekaterinburg

Duration: 2 days/1 night

Landmarks:

Day1: transfer to the Hotel

Day 2: t

he Historical Square, mansions 

of XVIII-XIX  century, the monuments of city founders,

 

modern city, Church on the Blood, Square of 1905, 

the border between Europe and Asia, 

Discription: MUST SEE cultural and historical tour to Ekaterinburg

Language: English, French, German, Spanish, Italian, Korean, Chinese, Japanese or other languages

Ekaterinburg multifaceted

Duration: 3 days/2 nights

Landmarks:

Day1:  

transfer to the Hotel 

the border between Europe and Asia 

Museum of military equipment (Museum of of motor vehicles) in Verhnyaya Pishma 

Optionally Uralmash Museum, Eltzin center

Discription: historical and ethnographical tour

Language: English, French, German, Spanish, Italian, Korean, Chinese, Japanese or other languages

Wonderful Ural

Duration: 4 days/3 nights

Landmarks:

Day1: 

transfer to the Hotel 

Day 2: City tour (t

he Historical Square, mansions 

of XVIII-XIX  century, the monuments of city founders,

modern city, Church on the Blood, Square of 1905)

,

the border between Europe and Asia

Day 3: Nizhaya Sinyachikha

Museum of military equipment (Museum of of motor vehicles) in Verhnyaya Pishma.

Optionally Uralmash Museum, Eltzin center

Discription: historical , cultural and ethnographical tour

Language: English, French, German, Spanish, Italian, Korean, Chinese, Japanese or other languages

Ural multifaceted

Duration: 4 days/3 nights

Landmarks:

Day1:  

transfer to the Hotel 

Day 2: City tour (t

he Historical Square, mansions 

of XVIII-XIX  century, the monuments of city founders,

modern city, Church on the Blood, Square of 1905)

,

the border between Europe and Asia 

Day 3: National park "Deer Springs"

Museum of military equipment (Museum of of motor vehicles) in Verhnyaya Pishma 

Optionally Uralmash Museum, Eltzin center

Discription: historical and ethnographical tour, eco -tour

Language: English, French, German, Spanish, Italian, Korean, Chinese, Japanese or other languages