Excursions in EkaterinburgTours to EkaterinburgMICE in Ekaterinburg
Ekaterinburg is situated in the Ural Mountains, at the border of Asia and Europe. In 2010 the city's population was 1,350,136 people that makes Ekaterinburg the Russia's fourth-largest city .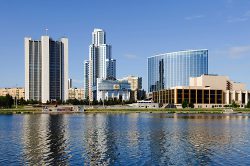 The city is named after Catherine, the Empress and wife of Peter the Great. It has been a key point on the route from Europe to Asia for several centuries ("Siberian Route" from XVII century). Since the late XIX century the city has been an important stay on the Trans-Siberian Railway, with lines radiating to all parts of the Urals and the rest of Russia.
Founded in 1723 by the famous Russian reformer Peter the Great as a manufacturing town, Ekaterinburg has remained one of the major industrial centres of today's Russia. The main activities of the region's industry are machinery and metal processing, as well as ferrous and non-ferrous metallurgy.
The Urals contain 48 species of economically valuable ores and minerals. The specialty of the Urals is precious and semiprecious stones, such as emeralds, amethysts, aquamarines, jasper, rhodonite, malachite and diamonds/
Ekaterinburg is rich for historical and cultural events as in the past as nowadays. Many historical buildings of different periods you can observe here: merchant mansions, first stone buildings of XVII century, monuments of Soviet constructivism, modern skyscrapers, etc.
Between 1924 and 1991, under the Soviet Union, the city was known as Sverdlovsk. The city returned to its original name after the dissolution of the Soviet Union, but the region kept its denomination
Ekaterinburg is the only Russian city ever to be featured on the UNESCO list "12 ideal cities in the world" in 2002.
Ekaterinburg has experience in hosting international top level events such as: the BRIC countries summit in 2009, the SCO countries summit in 2009, the Dmitry Medvedev-Angela Merkel meeting in 2010 and the Annual Innoprom International Exhibition and Forum. Also it will be one of the venues for the 2018 World Cup.